Virgin Islands Sailing Schools - Saint Thomas, U.S. Virgin Islands
Known for its white beaches and turquoise waters, Saint Thomas is home to the capital city of the U.S. Virgin Islands. National Geographic has rated Saint Thomas among the top destinations for sailing, fishing, and scuba.
Sailing Courses and Schedules
We use this paradisiacal island location for our Bareboat Skipper course, our Bareboat Catamaran Skipper course, and the departure point for one of our Offshore Passagemaking courses. Details of these courses can be found in our course catalog. For the dates of upcoming courses in St. Thomas, see this schedule.
Sailing School Maps and Directions
The map at right shows the location of our marina in the town of Red Hook (click the map for a full-size interactive version from Google). This map gives directions from Saint Thomas's Cyril E. King International Airport to the marina.
The quickest and easiest way to get from the airport to our marina is by taxi — just tell the driver that you're going to American Yacht Harbor in Red Hook. The fare should be about $15 per person, with an additional charge for each piece of luggage. Check VI Now Taxi page for current rates.
Your Yachts
Please see our BWSS fleet page for information about the yachts at this location.
Virgin Islands Weather
Travel Information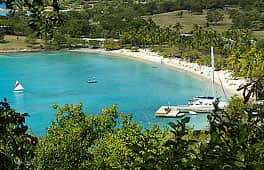 As the hub of the U.S. Virgin Islands, Saint Thomas is full of things to do and see. The capital city of Charlotte Amalie is famous for its vibrant cultural diversity, historically rich architecture, and ample duty-free shopping opportunities. The island is also home to a burgeoning ecotourism industry.
Virgin Islands Now and the Frommer's travel guide for St. Thomas both provide a good overview of what the island has to offer. If you plan on staying after your course to visit other islands, you should familiarize yourself with the interisland ferry system. If you plan on a longer stay in Saint Thomas, this PDF file (967KB) lists several good hotels and resorts you might consider.