Sailing Instructors and Staff
The most important part of any sailing school is the staff. We feel very fortunate to have some of the finest instructors in Southeast Florida.
Chris May, Instructor
Captain Chris May has over thirty years of experience operating vessels from 8 to 800 feet, from the Chesapeake Bay to the straits of Kattegat. As a trainer for the Dale Carnegie organization, he developed an amenable style, coaching people to achieve their ambitions. He now leads and/or teach sailors and divers, helping others to enjoy venturing on, and under, the sea.
Chris has a BSME from Tulane University, a MSME from the Naval Postgraduate School and served as a Surface Warfare Officer in the US Navy for 12 years.
Chris is certified to to teach ASA 101 - 106 and has been an ASA Outstanding Instructor in 2017, 2019 and 2020.
Dick Dawson, Instructor &middot Gail Dawson, Chef

Captain Dick Dawson grew up in Chicago and started sailing on Lake Geneva, Wisconsin where he spent his summers. He was very active in the Boy Scouts of America and achieved their highest rank of Eagle Scout. Along the way he participated in every water sport you can imagine, including white water canoeing, water skiing, scuba diving and under water basket weaving to mention a few! But sailing has always been his love and he just enjoys hanging around boats and docks. He believes there must be some salt water in his blood.
Captain Dick met his wife, Gail, in Iowa while working on his B.S. degree in biology. After college, the Navy took them to California and Captain Dick, who was a Commissioned Naval Officer, spent two tours of duty in Vietnam, one as the skipper of a Patrol Craft Fast patrol boat commonly know as a "Swift Boat".
After his active duty service he went to work in the petroleum industry in San Francisco, selling bunker fuel to ships all over the world. It was here that he first started teaching sailing for boy's camps and bought his first yacht, a 30 foot Coronado which he sailed on San Francisco Bay and the California coast.
After raising three great kids, Gail and Dick quit the corporate rat race, sold their house, cars and most of their worldly possessions, bought a 51 foot Jeanneau in St Maarten, Netherlands Antilles and commenced cruising throughout the Caribbean and eventually buying a home on the island of St. Maarten. It was here that Captain Dick became a certified ASA Instructor and also started doing yacht delivery work.
Gail, who also loves to sail, is a first class chef and enjoys passing on cooking tips for food preparation and storage, unique to cruising yachts, to students.
Captain Dick is certified to teach ASA course levels 101 – 106, plus 114 catamaran courses. He has taught seasonally with Blue Water Sailing School since 2008 and has earned the USCG 100 ton Master Captain's License with close to 60,000 NM in his log book. He has been an ASA Outstanding Instructor in 2018 and 2020.
Jaye Melanson, Instructor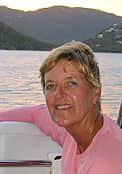 Captain Jaye Melanson's boating experience began early, with several voyages from the pristine shores of her native Vermont to Cuba and the Bahamas. Her most recent sailing sabbatical was a challenging yet glorious eighteen-month, single-hand excursion. The journey took her down the Eastern Seaboard and throughout much of the Caribbean aboard her beloved Absolutely, a Tartan 37 cruising/racing yacht.
At the culmination of this adventure, Jaye found herself working in Florida. She has since turned her passion for sailing into a career by working as Director of a sailing school, a charter captain, charter agent, an ASA-certified instructor, delivery captain, Director of SailTime Miami, a dive boat captain and dive master.
"I'd have to say I'm happiest while teaching and sharing my love of sailing with our students. Blue Water Sailing School is the best thing that has happened to me, and you'll say the same if you sail with us."
Having cruised, dived, moored, fished and explored extensively throughout the East Coast and Caribbean, Captain Jaye is proud to offer her unique perspective and acumen to the yachting world. Her return to port is always filled with smiling faces and fantastic memories.
Jennifer Wirth, Instructor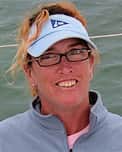 Captain Jennifer Wirth grew up in Milwaukee, WI. Sailing dinghies on Lake Michigan taught her a love of the sport, and she's been pursuing it ever since as both a career and a lifestyle. She began her sail-teaching career in college, where she made room in her heavy course load of physics classes to be an instructor for the student sailing club.
After earning her Bachelor of Science degree from the University of Wisconsin at Madison, Jennifer turned her attention to sailing full-time. Following a short stint working aboard a 60-foot ferroconcrete ketch, she downsized to something a little closer to the ocean and more to her taste — a 23-foot Herreschoff cutter. She spent the next six years sailing the Caribbean, living on self-caught seafood and fresh island fruit, enjoying the self-reliance and empowerment of "cruising simple."
Captain Wirth earned her USCG 100 ton Master Captain's License in 1995. She runs regular sailing charters out of Miami to the Keys and Bahamas aboard monohulls and catamarans, and fishing trips in the Keys. She's been an active ASA sailing instructor since 1999, teaching courses up to the Advanced Coastal Cruising level (ASA 106). When she isn't sailing or teaching, Jennifer indulges her passion for fishing.
Captain Jen is certified to teach ASA course levels 101 – 106, plus 114 catamaran courses. She has been an ASA Outstanding Instructor in 2017, 2018, 2019 and 2020.
José Miranda, Instructor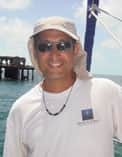 Captain Jose Miranda was born and raised on the Caribbean island of Puerto Rico, starting his sailing adventures at age 16. After college and degrees in chemistry and math he travelled in Europe as a fashion photographer, a career which he continues part-time to this day.
Returning to the Caribbean he started sailing as "rail meat" on racing boats, eventually moving up to handling the running backstays on Maxi class yachts.
He has sailed in the Med, Atlantic, Pacific and Caribbean Seas, but the all-time favorite place he has sailed is Antarctica. His favorite time in sailing is when the land dips below the horizon and all that is left is the boat and the sea.
He's style of teaching is very energetic and practical. He loves teaching and he's very patient with students of all levels. When not teaching, he's delivering boats worldwide. He is bi-lingual, English and Spanish. Capt. Miranda is a USCG licensed 100T Master and has American Sailing Association instructor certifications through Advanced Coastal Cruising (ASA 206). He has been an ASA Outstanding Instructor in 2018, 2019 and 2020.
When not on the water, Jose lives in Fort Lauderdale with his wife and two sons.
Tracy Spinney, Instructor

Growing up in the Oklahoma oil fields didn't offer Tracy Spinney many sailing opportunities. But a family sailing vacation around the Chesapeake in the early 80s conjured a love affair with the wind and waves that's lasted ever since.
After a successful career on Madison Avenue as a creative director, producer and voice actor, Tracy turned his hobby as a racer/cruiser into a profession, teaching sailing and racing at Manhattan Sailing School, Vineyard Sound and with Blue Water Sailing School. He has delivered yachts from New York to the Caribbean and back again, logging thousands of miles of blue water sailing. Tracy is a USCG Master and ASA Instructor up to ASA 106: Advanced Costal Cruising and looks forward to becoming certified in ASA 108: Offshore Passagemaking. He has been an ASA Outstanding Instructor in 2017.
Tracy refuses to be drawn into the monohull versus catamaran debate by aspiring to have one of each: a mono for racing; a cat for his wife Suzanne, daughters Kristen and Laurel and the family dog, Tiller.
Tony Wall, Instructor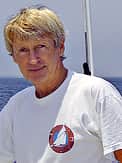 While recovering from a soccer injury in the early 1980s, Captain Tony Wall discovered the pleasures of one-design racing and weekend sailing on Long Island Sound and off the coast of Newport, RI.
"By the mid 80s I was hugely exaggerating my big boat experience, so I could charter large Beneteau and Jeanneau yachts in the Caribbean," admits Tony. "I soon learned the importance of good training and proper education to add to my pure sailing abilities."
Now an ASA-certified advanced sailing instructor, Tony has amassed over fifty thousand miles in blue water. A Pacific crossing in 1992 and a transatlantic voyage in 2006 took Captain Tony to many exotic and historically interesting destinations, as well as teaching him the value of self-sufficiency and perseverance. He also has years of racing experience under his belt, and is a three time winner of the Newport–Bermuda race (twice as tactician).
When he's not busy training a new generation of sailors, Tony is a yacht broker licensed and insured in the state of Florida.
David Pyle, Owner
David Pyle was born and raised far from the sea, in northeast Ohio. He discovered yachting during a college sailing trip in the Bahamas. It was love at first sail, and a new direction in his life was set. After graduating with a degree in math, Dave moved to the San Francisco Bay area and started sailing recreationally.
He eventually got a job as a first mate for a charter company operating in Florida and the Bahamas. With the experience and sea time he gained working for the charter business, Dave attained a US Coast Guard captain's license and went into business as a delivery and charter captain.
After five years of almost full-time sailing — four transatlantic crossings, numerous trips from the Caribbean to the US, and throughout Florida and the Bahamas — Dave swallowed the anchor and acquired a charter company. A few years, a business partner, and one marriage later, Dave and his wife Monica became the sole owners of Blue Water Sailing School.
Although now he usually sails a desk, Dave is a USCG Master (100 ton), and certified by the ASA to teach courses up to ASA 106: Advanced Coastal Cruising. Besides sailing, Dave enjoys skiing, mountaineering, running and hiking.