Rhode Island Sailing Schools - Newport, Rhode Island
Home of the America's Cup for fifty years, Newport earned the nickname "Sailing Capital of the World." Our monohull bareboat chartering class is offered at this location.
Sailing Courses and Schedules
We offer our bareboat chartering course at the Rhode Island base, and it serves as a destination for one of the offshore passagemaking courses. Details on these courses can be found in the course catalog. For the dates of upcoming courses in Newport, see this schedule.
Sailing School Maps and Directions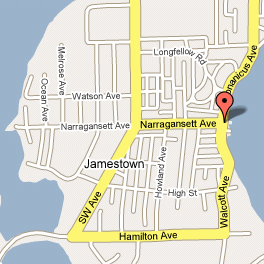 The location of Blue Water Sailing School's marina in Jamestown, across the bay from Newport, is shown in the map at right (click the map for a full-size interactive version from Google). Follow these links for directions from nearby airports:
TF Green State Airport (major airlines)
Newport State Airport (private planes only)
Quonset State Airport (private planes)
Cozy Cab offers regular shuttle service from TF Green airport in Providence to the Newport area. If you drive yourself, the marina has a parking lot for your car. It's unguarded, but we've had no problems with theft or vandalism.
If you're coming to Rhode island from elsewhere in the northeastern states, it might be easier and more economical to take a train instead of fly. You can check schedules and fares at the Amtrak website. The nearest station to us is Kingston, RI (KIN).
Your Yacht:
Please see our BWSS fleet page for information about the yachts at this location.
Newport, Rhode Island Weather
Travel Information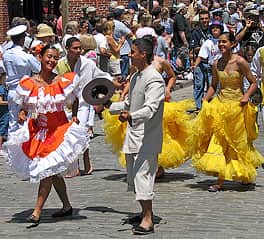 Tall Ships Festival parade
photo by Paul Keleher
If you'll be arriving early or staying after your class is complete, Newport and Jamestown offer plenty of attractions to keep you entertained:
The Jamestown, RI website has a list of things to do and see in the town surrounding our marina
The Newport County Convention & Visitor's Bureau has extensive information about what to do across Narragansett Bay in the city of Newport
There are hotels conveniently close to our marina in Jamestown, including several small inns and bed & breakfasts. This interactive map shows a few places we recommend.