Florida Sailing Schools - Fort Lauderdale, Florida
Fort Lauderdale, Florida is known as the "Venice of America" for its extensive canal system, which allows some local sailors to practically anchor in their own back yards. It's a yachting Mecca with 165 miles of navigable waterways, seven miles of beaches, numerous marinas and boatyards, and some of the best cruising weather in the continental United States.
In short, Fort Lauderdale, Florida is an ideal location for the Blue Water Sailing School headquarters. At this base we offer all of our monohull and catamaran sailing courses.
Florida Sailing Courses and Schedules
We offer our entire range of sailing classes our Fort Lauderdale, Florida sailing school location. Details of our sailing courses, schedules and rates can be found in the Blue Water Sailing School course catalog.
Florida Sailing School Maps and Directions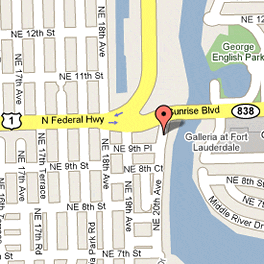 The map at right shows the location of our marina in Fort Lauderdale, Florida (click the map for a full-size interactive version from Google), along with local hotels, restaurants and other nearby attractions.
Follow these links for directions to our Florida sailing school from nearby airports:
Fort Lauderdale/Hollywood International Airport (major airlines)
Fort Lauderdale Executive Airport (small planes only)
Important Note: Make sure that your taxi or airport shuttle goes to our marina at 940 NE 20 Ave. Our office location at 922 NE 20 Ave may not be open on the day your class begins.
Your Yachts
Almost all of our yachts sail from the Fort Lauderdale, Florida location. You can find information and photos for all our ships on the BWSS fleet page.
Fort Lauderdale, Florida Weather
Travel Information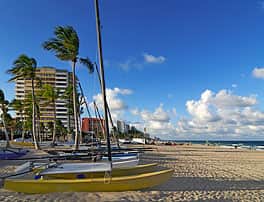 Our live-aboard Florida sailing courses will keep you busy, but if you plan to spend more time in Fort Lauderdale you'll find plenty to do. There are thousands of restaurants and an active nightlife. The scenic Riverwalk is home to a variety of boutiques, museums, theaters, and parks.
The city of Fort Lauderdale has accommodations in every price range, from budget hotels that offer a place to crash while you enjoy the city, to luxury resorts that are destinations unto themselves. This interactive map shows some of the hotels we recommend near our marina.